The award was handed over by Dr. Alessandra Jansky-Omat to Managing Director Thomas Schwabl at an event in our office in Vienna. After a comprehensive qualification process, those exemplary companies that are committed to sustainable corporate success, innovation and social responsibility are recognized as leading companies.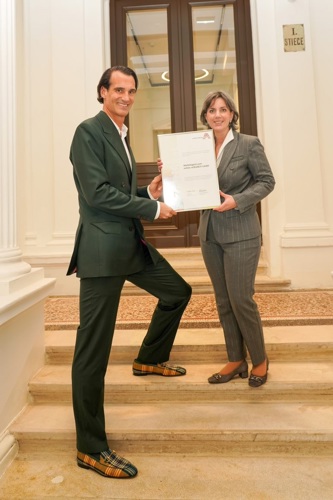 "Marketagent was the pioneer of digital opinion and market research in Austria and is still the innovation leader in this business field," explains Leitbetriebe Austria Managing Director Monica Rintersbacher. "Exact and, above all, timely data is an indispensable prerequisite for the market-oriented work of many companies and Marketagent makes this available in excellent quality."
"After the challenges of the last few years, we are particularly pleased to be recertified as a leading company, because last but not least it is also proof of our sustainable, economic stability and our consistent value orientation. The fact that our efforts are bearing fruit in assuming responsibility not only on an economic level, but also on a social and ecological level, is now once again being confirmed," says Marketagent Managing Director Thomas Schwabl.
Leading companies are the model companies of the local economy. They face the urgent challenges of economic life such as digitization or a shortage of skilled workers. With their consistent focus on social responsibility, sustainability and fair dealings with all stakeholders, they are drivers for the local economy. "I am pleased that our leading company philosophy is becoming more and more popular among Austrian companies," says Monica Rintersbacher. Leitbetriebe Austria offers excellent companies of the local economy a unique platform to intensify the exchange of know-how across industry and federal state borders. "Together we are setting new milestones to sustainably strengthen the development of Austria as a business location."